Exterior Parts
Mechanical Parts
Interior Parts
Electrical Parts
A Satisfied customer says
Placed an order today and the person taking the order was very professional and very fast. He evn gave me an additional discount. I really like my experience with your company, please keep up the great job!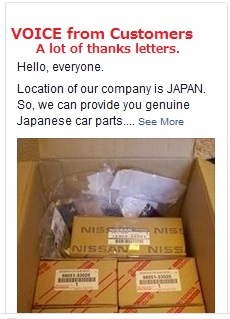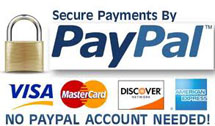 Delivery Services
Here at "Japan Parts Online" we offer a number of delivery services, please refer to the appropriate section for further information.

For orders placed after 4pm, please add 1 working day to your delivery date.
You will have the option on checkout to upgrade your delivery to one of these services: Next working day delivery excludes items which are not marked as in-stock.

If your item is Over-Sized or Over-Weight (Over 25kgs) you may incur an additional Price. If this is the case you will be contacted once your order is placed.

Due to the volume of economy deliveries, please allow a full 7 working days before contacting our customer service centre. All delivery times are aproximate and can be delayed due to circumstances out side of our control.
No deliveries will be made on Sundays or Bank/ Public Holidays.
Delivery timescales will vary for items which are not marked as in-stock.

Bank/ Public Holidays
No deliveries can be made on Bank/ Public Holidays. Any deliveries scheduled to arrive on a Bank/Public Holiday will be delivered the following working day. In addition, our warehouse is closed on Bank/ Public Holidays so orders placed on a Bank/ Public Holiday will not be despatched until the following working day.

Stock indication
Here at "Japan Parts Online" we use a stock indication system on our web site which informs you if we have the selected item in stock or if it is a special order item.

Stock indication status shown on our website is updated every 24hrs and actual stock at our warehouse may vary to that shown on the site (for example, where other orders are received before your order can be processed). Should you order an item where this has occurred we will send you an e-mail advising you of the changed status.

In stock
Products displayed as being 'in stock', means we have good stock levels at our Mail Order Warehouse and are available for immediate despatch in our normal delivery timescales.

Available to order
Parts displayed as being 'Available to Order' are not in stock at Mail Order Warehouse, but are in stock at our National Distribution Centre and are available to order, where this is the case we give an approximate estimated time of despatched to you underneath.

Dispatched in 24Hrs - The product is available from our Central Distribution Centre and the usual estimated time of despatched to you within is 24hrs.
Up to 7 days - The product is normally held within our Central Distribution Centre but is temporarily out of stock. Stock is due in from the supplier and the estimated time of despatched to you is within 7 days.
Up to 14 days - The product is normally held within our warehouse but is temporarily out of stock. Stock is due in from the supplier and the estimated time of despatched to you is within 14 days.
Up to 28 days - The product needs to be specially ordered from our suppliers, which may also be overseas. We will endeavour to get these types of products to you within 28 days.
Out of stock
Products displayed as being 'Out of Stock' are normally held within our National Distribution Centre but are temporarily Out of Stock. Stock is due in from the supplier but we do not have an estimated date of arrival.

Products that are not available at point of order
In some cases you may find that an item you wish to purchase as part of your order is not available. At this point you have two options:

Place the order on hold until all items are available and deliver your order all at once

Ship available items at point of order and send the unavailable item(s) separately when it becomes available, however this method may incur separate shipping charges for each item despatched.

More about delivery
If you order products with different status e.g. an item that is in stock and a product with a delivery date of 21 days, then we will deliver all items when we have all of the goods in stock unless otherwise instructed. Should you wish us to ship items to you as they become available we may impose additional shipping charges.

In the unlikely event of your product being lost or damaged in transit, claims must be made in writing. In the case of non-delivery, please wait 10 days in case it has been delayed. Damaged goods must be retained in case we need to arrange for inspection.

Please ensure you are available to sign for your parcel as this will not be left without a signature. If you are not there to receive your delivery, please follow the instructions on the card that will be left to rearrange your delivery.

Once your parcel has been attempted for delivery twice and a third has been unsuccessful a 3rd attempt has been made we reserve the right to levy an additional charge to re-arrange a further delivery. Any additional instructions to the carrier must be agreed by "Japan Parts Online".

All delivery costs include VAT at the current rate and are per order, regardless of the number of boxes.

Specialist Products:
Certain products have restrictions or special conditions as to the carriage of them.

Batteries:
Our couriers are only able to supply batteries to certain postcodes. To check if we can deliver to your postcode, you can use the postcode checker on any battery page, or in the checkout.Batteries are supplied in specially designed boxes, which carry the relevant legal, and health and safety markings. Please ensure the box is not damaged in any way upon opening the box, as any returns need to be sent back in the original box. If the box is not available, any batteries must be returned in an equivalent box. Japan Car Parts can supply a box at a cost of US$20.0

 EU Trader Co., LTD - Supply all kinds of Automobile spares. - Japan Parts Online
Address: 805-15 Akitake yonchoda ,Bell Park ,Shippo, Ama, Aichi, Japan 497-0003
Phone: +81-50-1113-5971 Fax: +81-52-308-1430 Email : Service@JapanPARTSonline.com